Lost Ark is a 2.5D adventure game with challenging gameplay and a compelling story. With a vibrant setting and beautiful lands to explore, Lost Ark lets you collect items like tokens from Frostfire Island.
Key Highlights
The Frostfire Island is a location in the game Lost Ark that you can access by using a ship.
It is located in the northwest part of the Geinah Sea in the Shushire Island region.
The island is known for its good mining spots. It is home to a powerful boss called Brealeos, who can drop the Frostfire Island Token upon defeat.
To access Frostfire Island, players must have an item level of 460.
The island also has various rewards available upon completion, including materials, engraving recipes, and the Procyon's Eye Compass.
Players may also find Mokoko seeds and Leapstones on the island.
The island is considered one of the best locations for farming Tier 1 materials in Lost Ark.
The Great Ordeals, The Protection Of The Sirius, and Fire Demon's Rage are some of the quests that players can complete on this Island to get different rewards.
In our guide, we will cover Frostfire Island, which is considered one of the Best Islands for farming Tier 1 Materials in Lost Ark. You can also collect many items here, like the Leapstones in Lost Ark. We will also cover any Mokoko Seeds Lost Ark that you might find here.
What Is The Frostfire Island In Lost Ark?
Frostfire Island is said to be the remnant of the Flame Demon Corps and God Of Ice and has one of the most important tokens in Lost Ark. Fire never goes out, and the ice never melts in Frostfire Island. Additionally, you can build Rapport in Lost Ark using the items you find on the Island.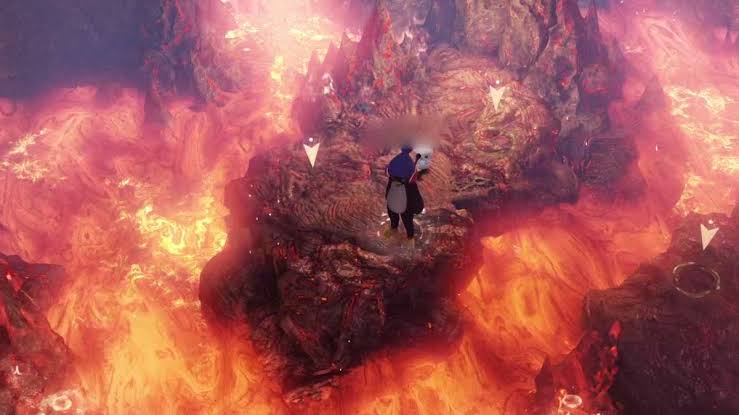 Frostfire Island is accessible by ship, so take the best blueprints of ships in Lost Ark out and get ready to collect some rewards and tokens. The island is relatively small, Mokoko seeds are very hard to find here, and there are no missions for you to do. You won't find much to do here, but getting the Island Token is important for progressing in the main campaign.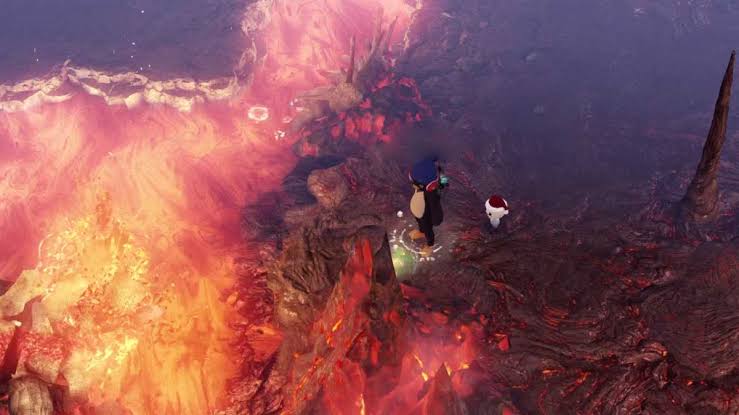 Location
You can find the Island located in the Northwest Geinah Sea, in Shushire Island. There would be a huge amount of ice that would be blocking the roads. It is considered one of the best places mining spots in Lost Ark.
Traveling would be fairly hard here, so it is recommended that you stock up on all the necessary equipment you will need. Moreover, we suggest taking the Sturmbrecher ship or any of the best ships in Lost Ark.
How To Access The Frostfire Island
In order to access Frostfire Island to get the token, your item level should be a minimum of 460 in Lost Ark. You will be facing a powerful boss here, so an item level of 460 is necessary. Want to know more about the mastermind behind the game? Check out our guide on Goldriver in Lost Ark.
Frostfire Island Token
Lost Ark lets you collect around 95 Island Tokens to collect on your journey. These tokens reward you with different items like Stat Potions, Mounts, and even Skill Point Potions. The Frostfire Island Token comes in an RNG Drop. You will get it by defeating a world boss called Brealeos. He is even harder to fight than Achates in Lost Ark.
The Island itself can be cleared at any point. However, the world boss will spawn on certain days—Head towards the center of the Island, where Brealeos will spawn. Brealeos is a damaged sponge. While he can be tricky with its attacks, his mechanics are not difficult to overcome.
Make sure you have an item level of 1385; otherwise, you won't be able to deal any damage to him. Are you looking to farm bots? Check out our article on Bot Farming in Lost Ark.
After defeating Brealeos, you will get a lot of rewards and several engraving recipes. The Frostfire Island Token will come in a random drop, so you might need to defeat it a lot of times before you get the Island Token. Additionally, you will have to consider the Procyon's Eye Compass Spawn Time to fight the boss as well.
Island Rewards
The Frostfire Island Token will not be the only reward you will be getting for completing the Island in Lost Ark. Following are the rewards in Lost Ark you will get upon completing the Frostfire Island.
Make sure not to miss any rewards Frostfure Island offers, as they will help you in your endgame build in Lost Ark a lot. Before you go farming for rewards in Frostfire, make sure you have the best Solo Class in Lost Ark.
Uncommon Engraving Recipe Selection Chest
It is a class-exclusive item, and you can find up to four of these on Frostfire Island. Once you pick it up, you can access it on your inventory roster. When you get the item and use it, you will be rewarded with one Uncommon Engraving Recipe that is class Exclusive.
It cannot be dismantled, and you will have the option to choose between many items like The Berserker Mayhem Engraving Recipe x1, Esoteric Skill Enhancement Engraving Recipe for Wardancer x1, The Enhanced Weapon Engraving Recipe for Deadeye x1, and many more. Engravings in Lost Ark act as a power-up for your character and buff your attacks.
The Uncommon Battle Engraving Recipe Selection Pouch
You can get eight of these on Frostfire Island, and the item cannot be dismantled. Once you pick it up, you can use it by accessing your Inventory. It will reward you with one Uncommon Battle Engraving Recipe for Lost Ark. You can choose from more than 30 recipes like the Spirit Absorption Engraving Recipe, Grudge Engraving Recipe, Super Charge Engraving Recipe, and many more.
Legendary – Uncommon Card Pack
The item is indestructible and cannot be dismantled or sold. Moreover, it will appear automatically in your inventory roster once you pick it up. Once you have this pack, you can choose from the following card packs in Lost Ark;
Legendary Card Pack x1

Rare Card Pack x1

Epic Card Pack x1

Uncommon Card Pack x1
Epic Rapport Chest
The chest contains Epic items available in Lost Ark and is one of the most sought-after drops in Frostfire Island. It will be bound to your inventory roster when you get it, and it cannot be dismantled.
You will get a chance to obtain items like Rethramis Holy Water, Yudia Natural Salt, Hawk Claws, Stalwart Cage, Prideholme potato, and several other Epic items.
Frostfire Island Mokoko Seeds
You can find three Green Mokoko Seeds in Lost Ark scattered around the land of Frostfire Island. When you collect the seeds, they will glow. The seeds themselves are very easy to equip; however, finding them is a hefty task.
One of the seeds is located in the northernmost part of the island. Moreover, it can be attained easily. On the other hand, the rest of the two seeds are fairly difficult to locate. If you're planning to visit Frostfire Island, make sure you have the best crew in Lost Ark for your ship to make traveling more convenient.
You will find the two seeds in the South of Frostfire Island. It is to be noted that this side of the map is covered with monsters, and it is recommended to stick to the wall while you look for the seeds. Killing the monsters is important to get the seeds, but you should stick to the wall and stay lowkey when attacking them.
The boss and other monsters will attack you if you directly run past them. So it is better to be sneaky when attacking them.
Mokoko Seeds location
You will find three Mokoko Seeds here.
Seed #1
The first Mokoko Seed in Frostfire Island can be found easily in Lost Ark.
Seed #2
The second Mokoko seed is found in the Frost part of the region and can be found easily. You will be battling many monsters here, so keep an eye out for them.
Seed #3
The final Mokoko Seed is present in the same region and is surrounded by a lot of tough monsters. After you have obtained all three Mokoko Seeds of Frostfire Island, you will be able to gain a lot of XP as well as the Island Token of Lost Ark.
Finding Mokoko Seeds can be quite hard, so make sure you have your Mount in Lost Ark with you to make things more convenient.
Frostfire Island Quests
Visiting Frostfire island is a part of many side quests, and the main quest in Lost Ark. Following are the quests that require you to farm items and rewards on Frostfire Island.
The Great Ordeals
You will encounter the NPC named Banri in the quest. The main objective of the quest is to talk to the Elemental Guardian of Frostfire Island.
Prerequisites For The Quest
Following are the two prerequisites for the quest;
The Protection Of Sirius

Fire Demon's Range
Rewards
You will get the following rewards upon completing the quest;
Roster XP x105

Epic Rapport Chest x4

silver x15000
The Protection Of The Sirius
For the quest, you will meet the NPC named Aidan. You will need to follow the NPC's instructions in order to get the protection of Sirius. Additionally, it is important to complete the Great Ordeals Quest first before you start The Protection Of Sirius.
Rewards
Courage x1

Roster XP x195

Uncommon Engraving Recipe Chest x4

Silver x28000

Uncommon Battle Engraving Recipe Selection Pouch x4
Fire Demon's Rage
The NPC Kianan will give you instructions on how to obtain the Rage of the Flame Legion Commander in this Quest. You will have to complete the Great Ordeals quest as a requirement to unlock Fire Demon's Rage Quest.
Rewards
Roster XP x195

Legendary- Uncommon Card Pack x6

Silver x28000

Uncommon Battle Engraving Recipe Selection Pouch x4
Final Words
There are many other locations like Heartbeat Island and Shangra Island in Lost Ark. Additionally, Ryndon in Lost Ark has a lot of Tokens, Quests, and Rewards to keep you engaged. You can also buy and sell various items online in Lost Ark Market.
Oblivion Isle and the Snowpang Island in Lost Ark is also considered a good place to farm gold and other items. There are a lot of things that the game offers. You can get Legendary Skins in Lost Ark and LED Glasses so you can slay the bosses in style. There are many bosses that you can fight, like Kungelanium, Tarmakum, and Roveln in Lost Ark.
This concludes our extensive guide on farming rewards and tokens in Frostfire Island of Lost Ark. Completing the Frostfire is a crucial step in the main campaign of Lost Ark. Many players come here to farm rewards and items. You can complete the Frostfire Island solo or tag along with a party in Lost Ark.
Was this article helpful?
Thanks! Do share your feedback with us. ⚡
How could we improve this post? Please Help us. ✍